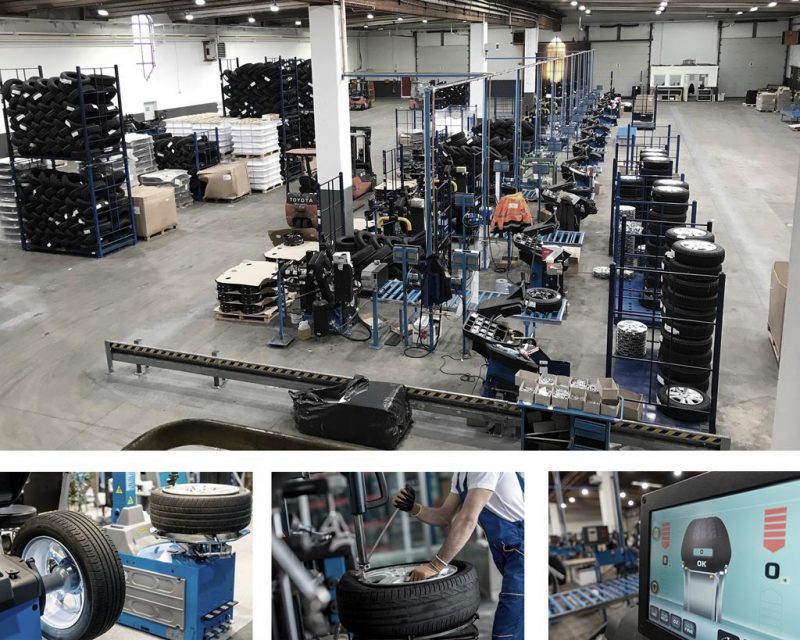 Complete wheel installation from RR TEAM gets everything moving
RR TEAM has set new standards when it comes to complete wheel installation and needs-based assistance. Service that you can count on any time.
Every year, around 9000.000 complete wheels, which are labelled, individualised and capable of being seamlessly tracked, leave our locations in the Eifel and Laubach (new since 2019). All process steps have been perfectly organised and coordinated with one another.
The highest level of warehouse and production logistics
RR TEAM offers you the added value of complete wheel installation with the highest level of transparency and efficiency. The latest logistics software is used to ensure smooth, rapid processes.
For this, every wheel in our production has an individual serial number so that components, production employees, shipping data, dealers and other relevant information can be tracked at any time. The entire storage process is controlled by high-performance logistics software.
All relevant steps are verified and secured with our scanner solutions. All components are allocated to production after the production date. With respect to commissioning, all complete winter tyres are posted by batch and allocated FIFO on the basis of IT controls. Ongoing quality controls ensure that processes are reliable and efficient at all times.
Tailored support for automotive manufacturers and importers
With our concepts, we have successfully helped automotive manufacturers and importers optimise and build their tyre and wheel business for years. Perfectly timed processes and a proven, competent team ensure your success – that's what strategic outsourcing looks like. Get our comprehensive tyre and logistics expertise working for you. Your advantages speak for themselves:
Six-digit production figures for complete wheel installation every year

Complete, scanner-based warehouse and production logistics

Individualisation of complete wheels with their serial number

Maximum transparency and traceability of all wheels to all process steps

Powerful support – concentrate on your core area of business!
Want to know more about our complete wheel service? We are happy to tell you all about the advantages in a personal presentation – just send a quick message.